WHY CHOOSE THE RAMBOUILLET?
Rambouillet sheep are raised successfully in a range of climate conditions from the scarce brush area of Texas to the extreme cold winters of Wisconsin. Breeders are also realizing the possibilities of raising the Rambouillet in diverse international environments such as Mexico, India and Canada. The ability of the Rambouillet to produce both meat and wool of high quality, with little feed and at a wide range of temperatures, are the key factors to maximizing breeders' profits per acre. In this era of technology push, the producer must learn to minimize costs by increasing efficiency. The Rambouillet can attain this goal. For many years, the Rambouillet has been known as the profit "cornerstone" of the U.S. sheep industry.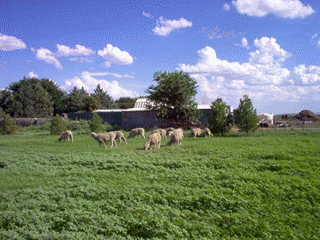 Follow the ARSBA on Twitter!

Send all entries to:
P.O. Box 214
Hawley, TX 79525
PH: 409-256-3687
2013 Youth Scholarship Application - Due June 15th
2013 NATIONAL SHOW & SALE INFO
National Sale Ram Entry Form - Due May 24th
National Sale Ewe Entry Form - Due May 24th
National Live Wool Show Entry Form - Due May 24th
Junior Show Entry Form - Due June 1st
Summary Information for National Show
National Show Updates <----PLEASE READ!
Revised Ewe Lamb Futurity Guidelines

Texas A&M Ram Test Sale Results
University of Wyoming Ram Test Results
North Dakota Hettinger Research Ram Test Results
RAM TEST RESULTS

Test #45
High Indexing, High Selling Ram at the 2012-13 Texas A&M Ram Test. Breeder: Texas A&M Experiment Station-Sonora.

Test #38

High Indexing Certified Ram at the Dakota Ram Test. Breeder: Jim Forbes of Wyoming. Index score of 136.36.


High Indexing Ram at the University of Wyoming Ram Test.
The ram was bred by Clyde Peterson
SHOW RESULTS

Supreme Champion Ewe over All Breeds at the Houston Livestock Show Open Breeding Sheep Show. Exhibited by Kade Hodges, Sterling City, TX.

Caleb & Tamra Kott at the Houston Livestock Show Junior Breeding Sheep Show. Caleb exhibited the Supreme Champion Ewe over All Breeds in the Junior Breeding Sheep Show.




Supreme Champion Ram at the Pennsylvania Farm Junior Show & the Supreme Champion Ram at the Big E Open Show. Exhibited by Richie Powell, Rome, PA