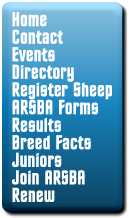 LINKS OF INTEREST

2021 Northeast NSIP Virtual Workshop

Livestock portion of the CARES Act

Online Webinar Dr. Reid Redden & Jake Thorne from Texas A&M Agrilife



Lamb Market Forecast App
US Lamb Resource Center

Best Practices to Increase Your Lamb Crop
Top Indexing Ram Texas
A & M Test
High Indexing Dakota Ram Test Champion
Dakota Ram Test Data Results
Newell Ram Sale
Univ. of Wyoming Ram Test
Results
Wyoming State Ram Sale
Utah Ram Sale
Texas A & M
Ram Test
Results
NDSU Hettinger Research Ram Test



Results from the National Rambouillet Online Sale

WHY RAMBOUILLET SHEEP?
Rambouillet sheep are raised successfully in a range of climate conditions from the scarce brush area of Texas to the extreme cold winters of Wisconsin. Breeders are also realizing the possibilities of raising the Rambouillet in diverse international environments such as Mexico, India and Canada. The ability of the Rambouillet to produce both meat and wool of high quality, with little feed and at a wide range of temperatures, are the key factors to maximizing breeders' profits per acre. In this era of technology push, the producer must learn to minimize costs by increasing efficiency. The Rambouillet can attain this goal. For many years, the Rambouillet has been known as the profit "cornerstone" of the U.S. sheep industry.


American Rambouillet Sheep Breeders Association
c/o Robbie Eckhoff
P.O. Box 214
Hawley, TX 79525
Phone: 409.256.3687
www.rambouilletsheep.org
Twitter: @RambouilletAssn


Email:

eckhoff5@aol.com

LATEST NEWS, UPDATES, EVENTS


2020 (Live) National Show & Sale Cancellation


T

he ARSBA President, Russell Kott's comments concerning this decision on the cancellation of the National Show & Sale.




ARSBA ByLaws Update

Scholarship Application
- watch for the 2021updated version



Scholarship Information
(2020 version)
NEWSLETTERS & F
UTURITY


December 2020 Bouilletin

Futurity Placings
Form
(updated address)


Futurity Guidelines
SHOW & SALE RESULTS

2020 National Rambouillet Online Sale Results
Rams & Yearling Ewes
Futurity Ewe Lambs



2019 National Show & Sale Results

2019 National Show Jr. Results
2019 Micron Results


Featured Rambouillet Wool - Forbes Ranch, WY


RAMBOUILLET CHAMPIONS

Houston Livestock Show & Rodeo
Caleb Kott of Junction, Texas


Supreme Champion Ewe in the Jr. Breeding Sheep Show. She was purchased at the 2016 National Rambouillet Sale. This is the 2nd consecutive year to be named Supreme Champion Ewe.




National Western Livestock Show




Rabel Family of Buffalo, WY

Supreme Champion Ewe




Wool Breeds


Keystone International Livestock Expo
Supreme Champion Ram
O'Banion Farms of Waynesville, OH


National Champion Ewe
Dew Drop Farms
New York Mills, MN




National Champion Ram




Borcher Sheep Company




Powell, WY




Res. National Champion Ewe
Legacy Sheep Company
Lewiston, UT and Coalville, UT



Res. National Champion Ram
Dr. Sam Jackson
Lubbock, TX

Texas A & M Ram Test

Top Indexing Register of Merit Ram
at the Texas A&M Ram Test
Producer was Rabel Rambouillets
Test # 12 - Index was 135.14

Dakota Ram Test

High Indexing Ram at the Dakota Ram Test
Forbes Rambouillets
Test W-59; Index 150.74


2020 National Show & Sale Cancellation

ARSBA

Show & Sale Results

Futurity Guidelines

Champions


Temporarily Removed

ARSBA Board of Directors