MEMBER of NSIP VOLUNTARY SCRAPIE PROGRAM SINCE 1995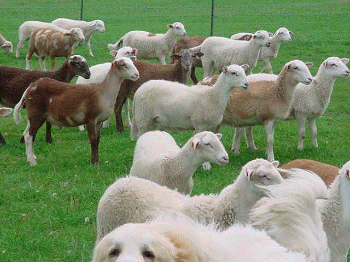 Please call 419-203-6389 or email at roncyoung@gmail.com for information.

Buckeye Acres History
The Young Family has been a family farming operation dating back through Ron's father, Gaylord, his grandfather, Arthur and his great-grandfather, Phillip.

The Buckeye Acres purebred sheep segment was established in 1965 with the purchase of two Suffolk Ewe Lambs and a Yearling Ewe as an FFA project for Ron. This project blossomed into a life long adventure for Ron and his wife, Carla and their sons, Kris, Phillip and William and daughter Jennifer.

Buckeye Acres Suffolks is a name recognized by all Suffolk Breeders, as their breeding stock is highly valued from coast to coast as well as in foreign countries.

As Ron and Carla's four children grew and began leaving for college (definitely a huge loss of labor), Ron and Carla started thinking of how to make the sheep a lower maintenance venture.

After over a year and a half of research, Ron and Carla purchased twenty-three bred Katahdin Ewes in January of 2001. Liking these animals, they were also intrigued by the White Dorper Breed, so in 2002 a White Dorper Program was established as well.

During the same time period, Ron and Carla were transforming a few of their world class, show type, Suffolks to what they refer to as a more "user friendly" or "production" (more muscular and performance) animal. In the spring of 2003, Ron and Carla decided to sell their "showtype" Suffolks and focus on their "production" Suffolks, Katahdins and White Dorpers.
Ron and Carla are transforming from a grain dependent flock to a grass based flock. The Katahdins and White Dorpers are naturals, as they love forages. They eat a variety of legumes, grasses, oats and turnips throughout the year.

A close look at the turnips coming up through the oats.
Buckeye Acres Mission
Strives to provide genetics that will perform equally on a forage based or grain based program.
To produce a hardy animal that can perform not only for us, but more importantly for our customers, either on a forage or grain based system.
All of our animals are naturally produced without the use of antibiotics or steroids.
Buckeye Acres Animals
Produce excellent carcasses (pounds heavy);
High rates of gain on both forage and grain based systems;
Produce a tender, mild flavor meat;
Hair Sheep (Katahdins and White Dorpers) breeds are excellent shedders;
Out of season breeding
Buckeye Acres has been in the Voluntary Scrapie Program since 1995 and DNA tested for RR/NN.
We are also a member of the NSIP.
Consulting
With our Forty (40) years of sheep raising experience, we have shown and sold our Suffolks from coast to coast and exported to several foreign countries. Ron has extensive judging experience in numerous state and national shows and sales, as well as in Mexico and Brazil.

We can aid in both "easy care" (pasture raised) and "intensive" (confined) operations:

· Grazing and Pasture Management

· Fencing and predator control

· Breed selection

· Purchasing and hauling

· General Flock Management

· Nutrition

· Health maintenance schedules

· Planned matings

· Marketing