Examples of Buckeye Acres White Dorper Ewes & Lambs
Our White Dorpers have been developed from an upgrading program using our Katahdins and our brockle faced (Suffolk/Dorset) ewes that were in our Suffolk program as recipient ewes.
We expect our White Dorpers to:
Be excellent mothers, Be good shedders, Produce a "pounds heavy" carcass with tender tasting meat, Be hardy

We feel we have developed a unique set of White Dorpers using our Katahdins Ewes and our recipient ewes.
These sheep have superior maternal characteristics, are bigger carcassed animals and are excellent shedders.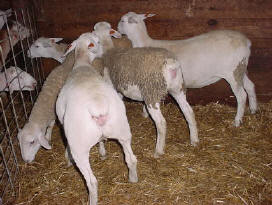 White Dorper Ewe Lambs
Featuring our White Dorper Stud Rams
RW 4163 BMF 0497